Reliable AIRSPACE SECURITY TO THE POWER OF THREE

DETECT
Automatic detection & classification
Early warning capabilities and minimal false alarm rates
Combining a state-of-the-art multi-sensor portfolio: RF analysis and directing finding of both drone and pilot in dense and congested spectra, sophisticated 3D radar, acoustics and optic

REACT
ELYSION C3I – Powerful Core Intelligence and intuitive C3I
Reduced complexity of the operational picture and enhanced decision-making
Providing interoperability with national and international standards and a broad range of interfaces including military

EFFECT
Layered portfolio approach of effective countermeasures
Against all control methods (including autonomous drones)
Minimal collateral damage on uninvolved third parties
Featuring: Smart Jamming, GPS Jamming, HPEM, netlaunchers
News
drone defence system for field camp protection
The German Armed Forces rely on tried and tested technologies to protect against the dangers of small Unmanned Aircraft Systems.
View more
Comprehensive airspace security – when it really matters
GUARDION is your protective shield against the threat of unauthorized drones – no matter where it's coming from or what target or purpose its sender is pursuing.
While each of our use cases - ranging from delicate airport operations up to military camp protection under extreme environmental conditions - presents unique challenges, our customers share one joint objective – to protect their daily business from unauthorized intrusion and disruption.
Our mission-proven GUARDION system has been developed on customer demand and modified to operators' needs – in the field and under pressure – to provide you with solutions that are tailored to your mission.
GUARDION missions on special occasions
TRIPLE SAFE FROM DRONES – Reliable Protection against all Kinds of Threats

NEGLIGENCE
Illegal intrusions into no-fly zones (airports or large-scale events)
Disruption of daily-business causes trouble to aviation safety, security & conduct of flight operations
Consequences: Claimed damages & possible legal actions

CRIMINAL INTENT
Smuggling of contraband, communication devices or weapons into correctional facilities
(Industrial) espionage endangers intellectual property rights & secret protection
Consequences: Concern to economic interests and general public safety

TERRORISM
Potential surveillance of targets, distribution of propaganda leaflets, weaponized drone attacks & IEDs in theatre and conflict regions
Asymmetric nature of attacks leads to Consequences: Danger to personnel, assets & exposed critical infrastructure such as military bases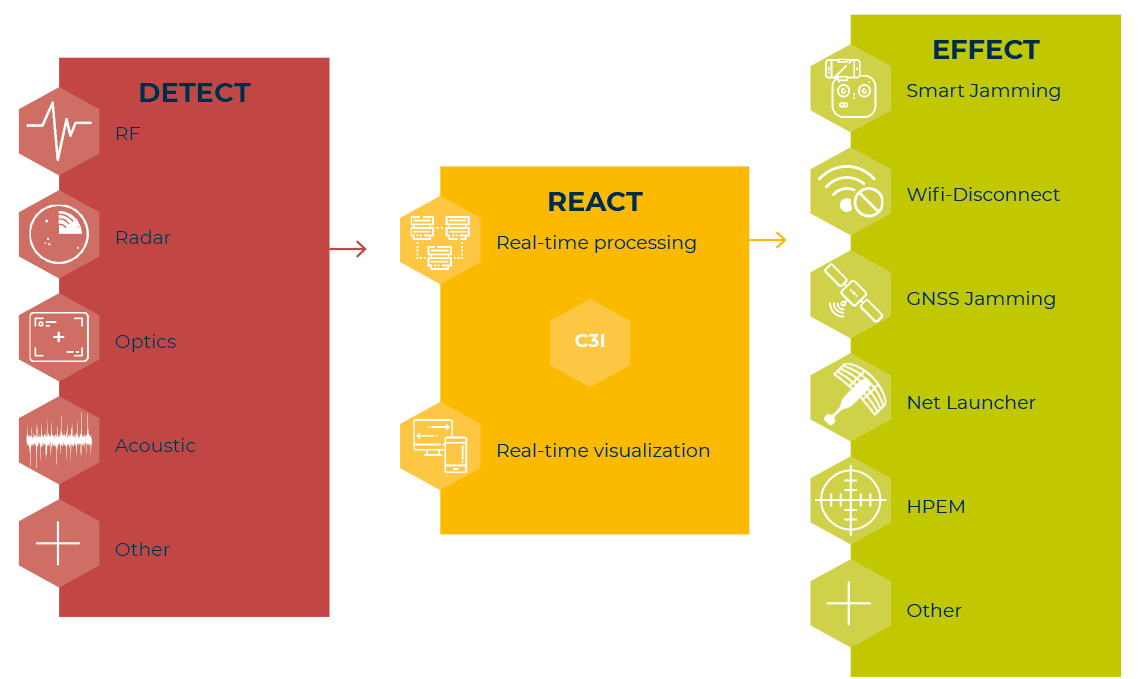 Deployment Options
Mobile / Vehicle
Fully integrated into vehicle

Containerized
Fully fitted into container; ready to be temporary stationed anywhere in the world

Boxed
Super agile version for immediate deployment

Permanent
Fully integrated in environments